The Island Style Roof has been protecting buildings in the Caribbean for nearly ten years with owners reporting excellent durability and resistance to hurricanes and tropical storms. To demonstrate the roof's effectiveness to wider markets, Acrylabs has subjected the design to the most rigorous testing protocols available.
After repeated devastation in severe storms, Florida has raised the building standards and become a leader in testing and approving roofing for use in hurricane zones. Florida state law requires roofing systems to have either a statewide or local product approval to demonstrate resistance to structural wind loads, defined by the Florida Building Codes, as a prerequisite for building permit approval. The Acrylabs Island Style Roof has been tested to the stringent requirements of the Florida building code and has obtained Florida Product Approval allowing the ISR to be used throughout the state including the High Velocity Hurricane Zone HVHZ).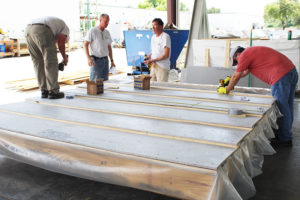 Sample roof sections were built on site at PRI Construction Materials Technologies, an accredited testing facility in Tampa, FL and subjected to controlled conditions replicating hurricane conditions per TAS-125 and TAS-100.
Roof valleys are likely areas where wind driven rain can find entry points and cause significant damage. A sample of the Island Style Roof with a valley detail was set up to be subjected to increasingly higher sustained wind speeds while introducing large volumes of water (note the wind speed posted in the observation window.)
The Island Style Roof sample experienced zero damage and absolutely no water infiltration even as the test equipment was pushed to its limits of 110 MPH. (note the wind speed posted in the observation window.)